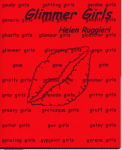 Paper, saddlestitched, 40 pp
$8.00 plus s&h
1999, ISBN 0-932412-16-5
Poems that evoke the author's blue-collar, rock 'n' roll young womanhood. Sharp, gritty, honest and well-crafted.
Information about Helen Ruggieri is available at http://helenruggieri.com
---
Shoo Doobie Doobie Do
by Helen Ruggieri
Chuck Berry duckwalks across stage.
We clap and scream.
We're yelling "Maybelline"
rocking up on the balls of our feet.
Nobody sits.
Down front they dance in the aisle
pushing and tugging in double time.
"Why cancha be true. . . ."
About ten rows down the guy
I like puts his arm around
a dark haired girl with spit curls.
……. Read more about Glimmer Girls – Helen Ruggieri