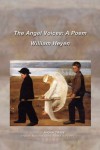 Paper, perfect bound, 66 pp
$14.95 plus s&h
2010, ISBN 978-0932412-881
The Angel Voices is a sort of "luminous dream," sometimes so real you can feel the heat. In this elegant and haunting work, William Heyen pours forth prophetic words of an almost divine nature. The poems search through images of grace and beauty as well as the grotesque, such as furrows dug to "drain off / human fat / the pyres congealed / with firefolk / villages of them / cities of them…." This gorgeous cycle is so ripe with sound and song that we hear the angel voices in every syllable.
---
Memory that
by William Heyen
horseshoe crab drags
its dagger
through sandshelled surf
bluntheaded
multiclawed
……. Read more about The Angel Voices: A Poem – William Heyen