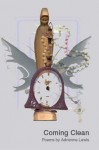 This item is part of the Book of the Month Special Offers!
Paper, perfect bound, 30 pp
$8.00 plus s&h
2003, ISBN 0-932412-21-1
The poem as a form of prayer is one of poetry's earliest traditions. In the lyric poems of this strong first book, Adrienne Lewis explores the nexus of faith and sexuality as experienced in the dilemmas of marriage and family life.
---
Repose
by Adrienne Lewis
For those on earth can much advance us here.
— Dante
Catholics have it all wrong: Purgatory
is not in the afterlife. It is the aisle in a grocery store
where your husband ignores you, the bed covers
you lie beneath alone. Never knowing if
……. Read more about Coming Clean – Adrienne Lewis